"Where beauty, love, and peace grow"
When was the last time you took a moment to pause, breathe, and look inward? In today's modern world, it's difficult to find moments of peace. That's why we recommend visiting the Sacred Garden on Maui. This non-profit botanical garden is free to the public and features an amazing collection of plants, flowers, living shrines, and artwork. Read more about the garden below and access our free Vacation Guide for additional must-see spots!
How to Explore the Sacred Garden on Maui
1. Connect with a Higher Power
The Sacred Garden on Maui is multi-denominational and thus offers images of deities from all religions. The hope is that visitors will see that images of God can co-exist in the same place. Admire a stunning 600-pound wooden Buddha in the Buddha Garden, or sit in front of the impressive painting of Jesus in the Jesus Garden. In the Mother Shrine room, guests are welcome to pray, meditate, journal, or read.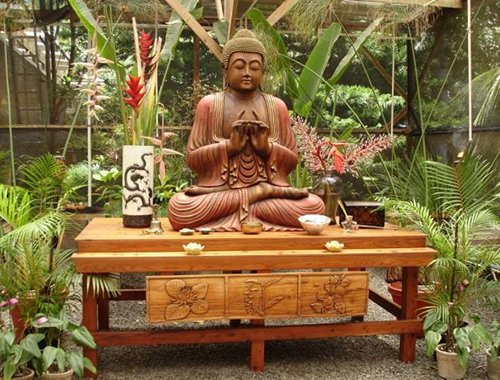 The Mother Shrine honors God in the feminine form, which is found in many cultures around the world. You'll see Goddess Tara, Quan Yin, the Hindu Goddess Durga, Mary the Mother of Jesus, and Sri Sarada Devi, the Holy Mother. Of course, Mother Nature is honored throughout the property.
2. Walk the Labyrinth
Do you have a question that needs answering? You might just come to a conclusion in a labyrinth. These ancient structures are often used for contemplation; when exploring the twists and turns, one loses track of time and direction. It's a wonderful way to quiet the mind and find some inner clarity.
The Sacred Garden has two labyrinths: a medieval 11-circuit labyrinth outside, and a classical 7-circuit labyrinth in the greenhouse. They're free to walk from 10 a.m. to 5 p.m. daily, however, we recommend taking a Full Moon Walk in the evening. This event is held each month and includes a guided walk with complimentary tea and hot chocolate in the garden.
3. Get Creative
The beauty of Maui's Sacred Garden is inspiring. You may even feel compelled to create a garden of your own! Head to the nursery and choose from a wide range of tropical plants, succulents, and flowers to craft your own masterpiece. Or, purchase a pre-made garden, living shrine, or planter for the perfect take-home gift!
Come Home to The Old Wailuku Inn at Ulupono
A visit to the Sacred Garden is a wonderful experience. After some self-reflection, take an easy drive back to our inn and unwind. You can continue your peaceful afternoon in our garden and sip a beverage on the lanai. When it's time to retire for the night, head to one of our breezy guest rooms for deep, restful sleep. Don't forget to join us for breakfast in the morning!
Check our availability and book your Hawaiian vacation today! We look forward to hosting you.