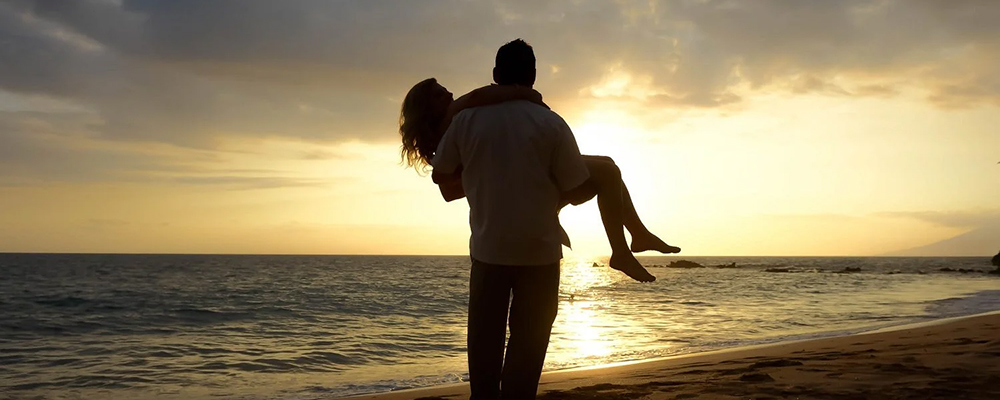 With its white sand beaches and tropical sunsets, Maui, Hawaii, is ideal for an island-style honeymoon. Couples of all ages can leave the wedding stress behind and immerse themselves in romance, passion, and aloha. (Aloha means love, after all!) Watch the sunrise together at the top of Haleakala Volcano, or embark on an epic scuba diving excursion. Either way, we promise you'll fall in love with Hawaii and even more in love with each other! Continue reading to find out how to plan the ultimate honeymoon on Maui. Then, access our complimentary Travel Guide for additional recommendations!
Make Memories During Your Honeymoon on Maui
Relax & Unwind
Are you and your spouse in need of some pampering? You're in luck! The most popular honeymoon activity on Maui is an oceanfront couple's massage. Wailea Massage & Body Care offers a fabulous honeymoon special that includes an outdoor, side-by-side massage with warm stones and souvenir sarongs. Try the 55-minute couple's massage for $228 or 85 minutes for $315. Body wraps, facials, and hand/foot treatments are also available.
Tip: Check out our spa blog for even more chances to relax!
Explore & Sightsee
A day trip on the Road to Hana is a quintessential part of visiting Maui. Some of the island's most spectacular beaches, waterfalls, and lookout points can be found along this route! To avoid late morning/afternoon tourist traffic, try to reach the historic town of Paia by 7 a.m. You can pick up coffee and a light breakfast before moving on to your next stop. Whether you're interested in history, culture, recreation, or nature, you'll find it all along the Hana Highway. Some of our favorite stops include:
Wine & Dine
Situated in one of the most remote spots on earth, MauiWine is Hawaii's oldest and most famous winery. It sits on the slopes of Haleakala, about 1,800 feet above sea level. Couples traveling the Road to Hana can stop in for wine tastings, vineyard tours, and romantic picnics. You can even buy a bottle of wine to save for later. Cheers!
When it's time for dinner, indulge in an unforgettable meal at one of the many restaurants on Maui. We suggest visiting Merriman's Maui, Gerard's, Cuatro Restaurant, or Mama's Fish House. Each offers award-winning cuisine and spectacular ocean views. Or, consider a sunset cruise for a casual yet picturesque dining experience at sea.
Enjoy Peace & Privacy at The Old Wailuku Inn
While there are plenty of resorts and hotels on the island of Maui, none give you an authentic experience quite like our bed and breakfast. The inn's cozy atmosphere and serene gardens provide the repose you need after a long day. Plus, all of our rooms and suites come with luxurious amenities, beautiful views, and a complimentary breakfast each morning.
Our Ulu Room is the best choice for honeymooners. This second-floor master suite boasts a large bathroom with a whirlpool tub and separate shower, plus a king-size bed, desk, and dining table for two. It's the perfect place to unwind and spend quality time together!
Check our availability and start planning your Hawaii honeymoon today.
We look forward to having you!