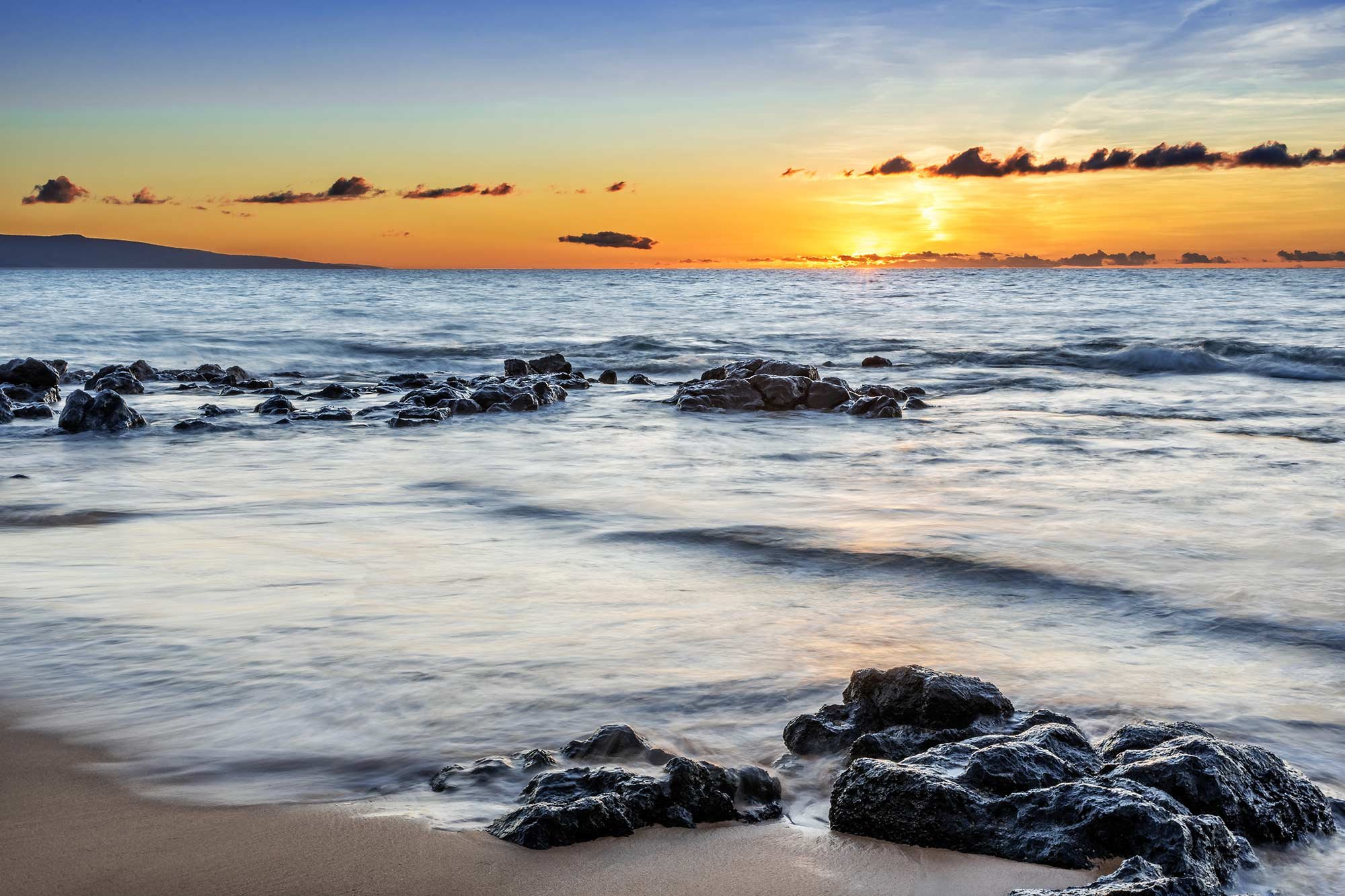 With flowing streams and sparkling pools, it only makes sense that Wai'anapanapa State Park means "glistening fresh water" in Hawaiian. Located off of the famous Road to Hana in Maui, Hawaii, this 122-acre park offers camping facilities, picnic spots, and a variety of spectacular natural wonders like caves, sea stacks, and blow holes. Whether you're planning an overnight stay or a few hours of exploration, a trip to Waianapanapa is a must when you stay at The Old Wailuku Inn at Ulupono! Here's what you'll find at the park.
5 Things to Explore at Wai'anapanapa State Park
1. Pa'iloa Beach
This small black sand beach is comprised of a dark, pebble lava field that provides a breathtaking contrast to the deep blue-greens of the ocean. Pailoa Beach was created by a lava flow several hundred years ago and is now backed by black cliffs and lush vegetation. Guests can explore an ocean cave on the east side of the beach as well as a naturally-made lava arch in the water. Swimming here is only possible when the ocean is calm and rip currents can form in the bay when the surf is up, so be sure to always check Hawaii's ocean safety tips before heading out.
2. Caves
There are two caves located within Waianapanapa State Park, where sparkling fresh water floats above salt water. Some believe that the water in these legendary caves was used for preparing food or washing clothing in ancient times. The caves are also said to be the site of the grisly murder of Princess Popo'alaea, who was killed by her cruel husband Chief Ka'akea. It's believed that when red shrimp cover the cave floors in the spring, their blood-red stain marks the anniversary of the murder. Today, visitors can access the gorgeous caves from a loop trail and even swim in the pools.
3. Ancient Ruins
The park also features 34 sites that showcase the presence of ancient Hawaiians. These sites include five cave shelters, an ancient trail, a pictograph, enclosures, shelter walls, house platforms, several burial sites, and more. Guests can take a scenic 2-hour walk down the stepping stone path of the Kihaapi'ilani Trail from Hana Town to the ancient ruins.
4. Hiking Trails
The rugged, 2-mile Coast Trail at Waianapanapa Park starts along a paved walkway and offers beautiful views over Pailoa Beach. You'll find a short trail that descending to the beach and leads to the opening of a lava tube, or continue to a rocky outcropping of lava where you'll find a large blowhole and a long lava arch. Winding along the volcanic coastline, you'll cross a narrow rocky bridge, pass the remains of an ancient temple, and walk through an overgrown grassy area to more ancient remains from an old village. Don't forget to bring your camera!
5. Camping
If you simply can't get enough, Waianapanapa is home to one of the best campgrounds on Maui and offers excellent swimming spots, scenic hiking trails, and amazing sunrise views. You'll find everything you need including camping gear rentals, cabins, and even guided camping excursions. There are also areas for both drive-up and tent camping, so you can experience the beauty of Hana from sunrise to sunset.
Book Your Stay at the Old Wailuku Inn at Ulupono!
After you visit Waianapanapa State Park, head home to our Maui bed and breakfast where you can unwind in one of our beautiful rooms and suites! With luxurious amenities and beautiful views, our inn is the perfect place to relax after a day of adventure. Plus, you can enjoy a delicious homemade breakfast the next morning that will have you fueled up and ready for even more fun. We can't wait to hear about what you discover in Maui!